Itinerary
1 - Friday ( December 23 ) : Welcome to Israel
v
Activities:
Arrival at Ben Gurion airport - Your VIP agent will be waiting to greet you at the sleeve of the plane. After assisting with arrival procedures and collecting your baggage, you will be taken to meet your driver.

Travel to Jerusalem

Overnight: Jerusalem (on own)

Overnight: Overnight: Jerusalem (on own)
2 - Saturday ( December 24 ) : Rest & Explore Jerusalem on your own
v
Activities:
Day at leisure

Overnight: Jerusalem ( on own)

Overnight: Overnight: Jerusalem ( on own)
3 - Sunday ( December 25 ) : Jerusalem - Holy to All
v
Activities:
360° panoramic view from atop an ancient guard tower at Tower of David grounds - This is the only place in Jerusalem where the entire Old City, new Jerusalem, Mount of Olives, Mount Scopus, the Judean Desert and the Moab Mountains of Jordan, will be at your feet.

Ramparts Walk - Encompass the Old City of Jerusalem by following the Ramparts Walk. Walk on the top of the walls built by the Ottoman ruler, Sultan Suliman the Magnificent in 1536, and observe the picturesque views of both the Old City with its alleys and shrines, and the New City spreading on the surrounding mountains outside the Walls.

Old City Tasting Tour - Walk through the Muslim and Christian Quarters of the Old City seeing the historical and religious sites. See some off-the-beaten track sites in the winding alleyways and enjoy some Jerusalem delicacies. We will have a "taste of history" that interweaves stories and anecdotes, historical information, and, of course, combines the senses of smell, taste, and sound.

Church of the Holy Sepulchre - The Holy Sepulchre is situated on the hill called Golgotha or Calvary. The Church contains the last five Stations of the Cross including the sites of Jesus' crucifixion and burial. Several Christian denominations claim ownership to various parts of the site so holy to Christendom.

Jewish Quarter - The Jewish Quarter is best known for the Western Wall, but there's a lot more to see and do here. See archaeological finds from First and Second Temple periods, Roman ruins, and vibrant synagogues, and witness learning institutions jostle for space in these busy stone streets. The central plaza offers an excellent place to contemplate the power this quarter holds for so many.

Western Wall - Proceed to the Kotel (The Western Wall), sacred because it is one of the last remnants of the Second Temple that was destroyed by the Romans. Feel the stones that have witnessed so much in the history of the Jews. Place your special and personal prayer in the cracks of the stones.

Overnight: Jerusalem (on own)

Overnight: Overnight: Jerusalem (on own)
4 - Monday ( December 26 ) : Memory and Life
v
Activities:
Meaningful visit at Yad Vashem, Israel's National Memorial to the Holocaust - Tour this memorial to the darkest moment in world and Jewish history, its children's memorial, and exquisite gardens. Yad Vashem is an unforgettable place of tribute and remembrance. You'll be guided by a member of the Yad Vashem staff.

Machane Yehuda Market Tasting Tour - After a meaningful morning we'll continue to Israel today, to see the vibrant life in Jerusalem. In the heart of the city, a bustling multi-ethnic market bursting with life, art, and flavor, a tasting tour through Machane Yehuda market is an adventure for your taste buds. Enjoy the hustle and bustle with all the rich fragrances, colors, and sounds this iconic Jerusalem market offers.

Time on own in the afternoon

Check out dome Jerusalemite art at Hamiffal - Hamiffal, "The Factory" is an art community that turned an abandoned 19th century building in the heart of Jerusalem into a shared platform for art and culture. This stunning space wraps itself around you with it's complexity and intrigue.
(Dinner on own, we can make reservations)

Overnight: Jerusalem (on own)

Overnight: Overnight: Jerusalem (on own)
5 - Tuesday ( December 27 ) : Desert Splendor
v
Activities:
Depart south

Ascend Masada - To tour King Herod's private fortress which, following the destruction of the Jerusalem Temple in 70 BCE, became a base for a small band of Jewish zealots in revolt against the Romans. Although the rebels held their own, they were eventually overcome by siege, and according to historian Josephus, chose mass suicide over surrender. Masada has come to symbolize the fierce determination of the people of Israel, but its tragic history also raises questions about the price of freedom.

Herbert Samuel Dead Sea - Israel's Dead Sea is the lowest point on earth, a stunning, other-worldly landscape of shimmering blue water ringed by bare, orange and yellow hills. The waters of the Dead Sea hold a potent solution of minerals and salts that have strong healing properties. Together with its ethereal beauty, these health-giving minerals make the Dead Sea's beaches and spas popular vacation spots for Israelis and tourists alike. At one of the local hotels, have lunch and 'float' in the Dead Sea.

Transfer to the Arava Border Crossing - You will be guided through the border crossing by our agent and be greeted on the other side of the border by your Jordanian driver and guide.
6 - Wednesday ( December 28 ) : Wadi Rum
v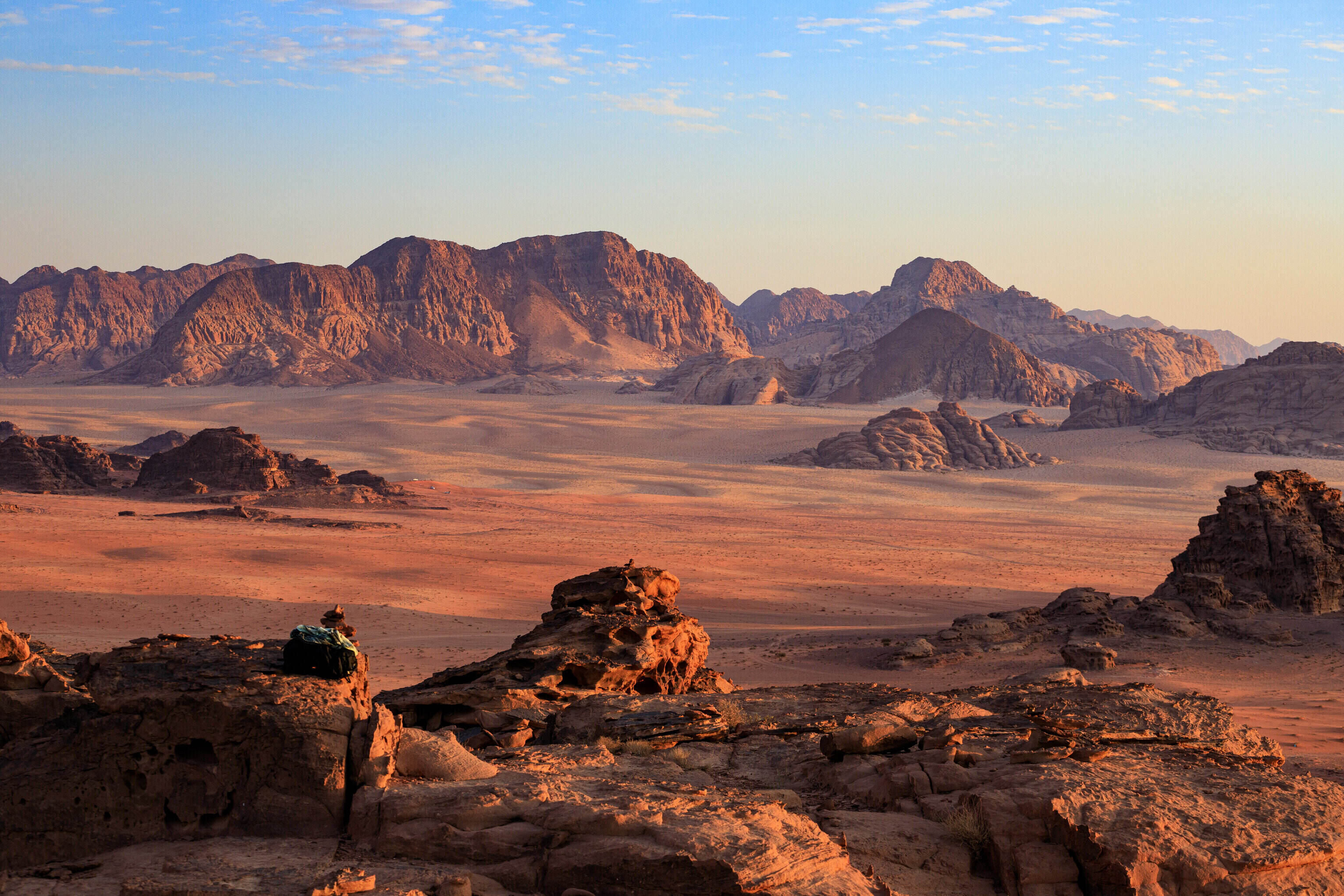 Activities:
Wadi Rum - Travel to Wadi Rum. In Wadi Rum you shall pass the famous "Seven Pillars of Wisdom" on your way to the Visitors Centre, where you will have a short stop. Here you will board a local open 4 X 4 Vehicle escorted by a Bedouin guide to take you out into the desert for 3 hours. You will visit the Lawrence Spring, the Famous Ghazaly Gorge with its ancient Rock inscriptions. Lunch Break at a Bedouin Camp. At the end of the tour we drive to Wadi Rum for check in at the Hotel
7 - Thursday ( December 29 ) : Petra
v
Activities:
Petra - Visit Petra, Jordan's jewel, the capital city of the Nabateans. Petra is a vast, unique city, carved into the sheer rock face of the rose red stones of the Wadi Mousa Mountains by the Nabataeans, an industrious Arab people who settled here more than 2000 years ago, turning it into an important junction for the silk, spice and other trade routes that linked China, India and southern Arabia with Egypt, Syria, Greece and Rome. Despite successive attempts by the Seleucid king Antigonus, the Roman emperor Pompey and Herod the Great to bring Petra under the control of their respective empires, Petra remained largely in Nabataean hands until around 100AD, when the Romans took over. Upon arrival, you will take a horseback ride (optional), and walk through the Siq - the only access to this city. Enjoy lunch (included).
8 - Friday ( December 30 ) : Return to Israel
v
Activities:
Transfer to the border crossing - You'll be greeted at the Israeli side of border and transferred to King Hussein Border Crossing

Transfer to Tel Aviv

Overnight: Tel Aviv (on own)

Overnight: Overnight: Tel Aviv (on own)
9 - Saturday ( December 31 ) : Tel Avivian Shabbat
v
Activities:
Graffiti tour - Graffiti tour in the trendy neighborhood of Florentin, and experience fun and artistic freedom. Discover new and daring Israeli Graffiti Artists that are gaining recognition around the world.

Overnight: Tel Aviv (on own)
10 - Sunday ( January 1 ) : Rest & Explore Tel Aviv on your Own
v
Activities:
Day at leisure

Overnight: Tel Aviv (on own)

Overnight: Overnight: Tel Aviv (on own)
11 - Monday ( January 2 ) : Abundance
v
Activities:
Depart north

Visit Mount of Beatitudes - Mount of Beatitudes is a hill overlooking the Sea of Galilee where Jesus preached the Sermon on the Mount.
A Catholic Church was built 1930's by the well-known "Architect of the Holy Land" Antonio Barluzzi, using the local dark basalt stone. Its octagonal walls commemorate the Eight Beatitudes, each graced with the first words of one of the eight verses of the Sermon on the Mount. The church is surrounded by a marvelous garden, that allows the visitors a quiet place to contemplate and pray.

Visit Capernaum - Located on the northern shore of the Kinneret, Capernaum, or Kfar Nahum, was a fishing village in the days of the Second Temple. We can still visit a very well preserved synagogue. Today it is a site of pilgrimage for Christians as it was one of the places where Jesus and Peter, the Apostles, lived and preached.

Lunch at Havat Rom - A visit to a magical organic farm, located on a mountain with a beautiful view of Meron Mountain. This is an agricultural organic farm, where they use ancient knowledge along with modern tools. Trying to find the balance between humans and nature. Enjoy a light meal from the fresh produce and excellent cheese.
(Lunch not included, we can make reservations)

Continue to The Bahai Gardens - From the Louis Promenade at the top of Mount Carmel, we will admire the stunning scenery. Nicknamed the Balcony of the Country, a 400-meter long promenade at the top of the Baha'i Gardens offers a view of the entire Haifa Bay, all the way to the border with Lebanon. This impressive spot offers a truly spectacular view, so have a camera ready!

Return to Tel Aviv

Farewell dinner at M25 - One of the top meat restaurants in the city just happens to be this unassuming, tavern-style eatery. Featuring one-of-a-kind Israeli dishes, with fresh meat taking the spotlight, carnivores can rejoice in the deliciously juicy flavors, and a menu that changes daily."
(Dinner not included, we can make reservations)

Transfer to Ben Gurion Airport

Farewell - We look forward to hosting you again in our beautiful country!
FAQ
What's the weather like in Israel?
v
It is always best to check the weather forecast beforehand as the weather during the Spring seasons can be unexpectedly warm or cold. From late March through May, daytime temperatures are generally very pleasant - around 65-70°F, though it can still be hot in some areas (such as the Dead Sea and Eilat). There is a slight chance of rain, but it doesn't happen often. It can be cooler in the evenings in the North and Jerusalem - approximately 45°F.
Weekly weather forecast
How much do I tip my driver and tour guide?
v
For all groups ranging from 2-6 people, it is suggested that you tip the tour guide $70 -$100 (from the group) per day. For groups larger than 8, it is recommended to tip $8-$12 per person, per day + 50% for your bus driver. Tips are not included in the cost of a tour and are always at your discretion.
Will I need an adapter/converter for my electronics in Israel?
v
The electric current in Israel is 220 volts, C, single phase, 50 Hertz - the same as in Europe. If your appliance does not work on 220 volts, you will need an adapter or converter. Israeli plug sockets are three-pronged, but most accept European two-pronged plugs. We recommend that you bring your own adapter, though most hotels should be able to supply one. For cell phones & tablets you need a plug tip adapter. Smart devices (Android, iPhones, Kindles, iPads) can convert between 110v/220v by themselves and therefore only need the plug-tip adapter. Many hotels have USB sockets and 110V sockets as well, but don't count on it. Also - we supply our guides with adapters/converters for our guests. Should you need it, we've got you covered.
What documents do I need?
v
US and Canadian citizens are not required to obtain a visa for travel to Israel. Citizens from all other countries will need to check with their respective embassies / consulates or visa agency to determine if a visa is required. You can also check
here.
Your passport needs to be valid for 6 months from the date you leave Israel after your trip.
Terms of Payment
Deposit is due immediately to secure the booking.
Balance for the trip is due no later than 45 days prior to first day of trip.
Please refer to our full Terms and Conditions here.
Cancellation Policy
Bookings can be cancelled within 48 hours, with a full refund.
Should it be necessary to cancel or postpone the tour due to force majeure circumstances, or Israeli government-imposed/air flight restrictions related to COVID-19,  a full refund may be possible, minus a $200 per person service fee.

For cancellations made:
Up to 45 days prior to departure, any payments made above the deposit towards the tour will be refunded. The deposit is non-refundable
45 to 30 days prior to departure, 50% of the total tour cost per person will be refunded
29 to 8 days prior to departure, 25% of the total tour cost per person will be refunded
7 to 0 days prior to departure, the client will incur 100% of the cost of the tour
Should members of a group booking cancel their participation, their deposits cannot be applied to the balance payment of other group members.
All cancellation requests must be made in writing.
What's Included

Jordan Tour (3 days, 2 nights)
v

Transfers to and from the border crossings
v

Border fees
v

VIP services at border crossing Allenby Bridge
v

Tour guide and transportation in Jordan
v

Meals as listed in Jordan
v

Accomodation in Jordan
v

A private, licensed, English speaking tour guide and transportation
v

Bottles of water, as needed, and snacks
v

Fees for sites and activities listed
v

Meals as listed in the itinerary
v

VIP services upon arrival & departure
v

Transfers to and from the airport
v

Airfare
v

Tips for tour guides and drivers
v

Travel Insurance (recommended)
v
Testimonials
"An Experience which was Perfection! Via Sabra is an incredible company which we both recommend highly. They created an extraordinary trip for my husband and me. They spent a great deal of time developing a good sense of who we are and our interests. They then planned a trip which was perfectly geared to us. They surpassed all expectations which we had and no request was too much for them. We explored history, culture, religion, politics and Israel's splendid food and wine all highlighted by exceptional guiding. "
Know before you go
Helpful articles from our Israel travel blog