Itinerary
1 - Monday ( October 9 ) : Welcome to Israel!
v
2 - Tuesday ( October 10 ) : Innovation, Fashion and Arts
v
Activities:
Breakfast at your hotel

Peres Center for Peace and Innovation - The Peres Center for Peace and Innovation is a leading non-profit and non-governmental organization focused on developing and implementing unique and cutting-edge programs. The center presents the incredible story of Israel, the "innovation nation", and showcases the diverse fields and people behind Israeli innovation.

Old Jaffa - Jaffa is one of the most ancient port cities in Israel and the Mediterranean basin. Today Jaffa is a mixed city, where Jews and Arabs live alongside each other. Tel Aviv, Jaffa's younger sister, was established centuries later, in the year 1909, but the two were united into one municipality in 1949, yet each part kept its unique feel and atmosphere. Jaffa has been regenerated in recent years with the old narrow streets and courtyards becoming a highly popular part of Tel Aviv's urban tapestry.

Lunch on own at Jaffa Flea Market - Wind your way through the Flea Market which features everything from antiques to hip new clothing and design stores, cafes, restaurants, and bars.

Fashion Tour in Jaffa with Liri - The tour addresses the relationship Israeli fashion has with the various aspects of living in Israel including identity questions, sub-groups in Israel, immigration to Israel, wars and cultural life and social entrepreneurship. Meet old and new fashion brands, designers who use ancient crafts and other professionals who use the best technology. We will walk, talk and shop.

Nahalat Binyamin Arts and Crafts Market - Visit Nachalat Binyamin, an open-air market in the heart of Tel-Aviv that has become synonymous with quality Israeli crafts and folk art. The market is comprised of over 100 stands representing specialty crafts and folk art in virtually every medium imaginable: wood, stone, sand, glass, ceramics, and various metals with most if not all containing materials or themes found only in Israel.

Dinner at HaBasta - Small but perfectly formed, HaBasta is located on a street leading off Tel Aviv's Carmel Market, from where almost all its produce is sourced. An extensive daily changing menu is scribbled on a piece of paper on the wall. The dishes, while simple, are satisfyingly complex in execution. The international wine list is equally exceptional. You will be greeted by Maoz Alonim, chef and owner.

Tel Aviv

: Tel Aviv
3 - Wednesday ( October 11 ) : The Israeli Mosaic
v
Activities:
Breakfast at your hotel

ANU Museum of the Jewish People - In June 2021, after ten years of planning and construction, the largest Jewish museum in the world opened its doors. You're invited to join a fascinating journey that portrays the story of the Jewish people through the generations and up to the present time. The Museum represents all parts of the Jewish people and highlights the creative works and cultural riches of a variety of communities in different periods of history. This story is about all of us and each and every one of us is part of it.

Gazoz Workshop - Meet Benny Briga the legendary Gazoz master of the Levinsky Market and author of the Gazoz book with Adeena Sussman. Briga has reimagined the Turkish tradition and given it a creative twist that results in delicious and beautifully bubbly beverage. Join Benny to learn how you can make this yourself.

Levinsky Market Tasting Tour - The Levinsky Market specializes in spices and Mediterranean delicacies. It is, in many ways, the best market in Tel Aviv, known for its variety, freshness, and special atmosphere. Whether you are looking for a rare Indian spice or some good quality saffron - this is the place. Shops offer a cornucopia of excellent cheeses, smoked fish, wines, and other delicacies. Tour the market and have "tastings" throughout.

Graffiti Tour - Explore Florentine through an urban graffiti tour. Who are the people going out at night and changing the face of the neighborhood? What kind of story do these images and words tell us about the people living there? What is unique about graffiti in Israel and in Tel Aviv? We will walk through Florentine, the neighborhood of Tel Aviv best-known for graffiti art to answer these questions and many more in a dynamic and inquisitive tour.

The Milk & Honey Distillery - Stop at the Milk and Honey Distillery, the first whiskey distillery in Israel, for a tour and tasting.

Dinner on own - We will be happy to make suggestions and reservations

Tel Aviv

: Tel Aviv
4 - Thursday ( October 12 ) : Science, Wine and Culinary Gems
v
Activities:
Breakfast at your hotel

Weizmann institute of science - The state-of-the-art Levinson Visitors Center is the gateway to the Institute, giving visitors a window into the unique nature of scientific investigation and discovery at the Institute, Here, visitors will learn about the Weizmann Institute's central role in Israeli science and technology.

Bravdo Winery - Bravdo Winery is a boutique winery founded by veteran wine growing families of more than 130 years. The winery sits among its own vineyards, near the village of Karmei Yosef and is one of the very few genuine estate wineries in Israel.

Return to Tel Aviv

Hatikva Market Tasting Tour - Hatikvah Market is a lesser-known gem. Since the market's renovation it has become a joyful, colorful place. Many say this is Tel Aviv's best market for variety, price, people-watching, and authenticity. The Hatikva Market was built in the mid-1930s as a response to the Arab Revolt, when residents of the village of Salama stopped coming to the neighborhood to sell their goods. What began with a few produce stalls put up by local residents of Iraqi, Yemeni, Syrian and Iranian background grew into a sprawling market spread out along the triangle of Ha'Etzel, Hahagana and Hatikva Streets.

Tel Aviv Nightlife - Experience the "city that never sleeps" by a fun bar hopping tour. (optional)

Tel Aviv

: Tel Aviv
5 - Friday ( October 13 ) : Everything Art
v
Activities:
Breakfast at your hotel

Tel Aviv Museum of Art more with Shirel Horovitz - During this dynamic tour with Shirel Horovitz we'll figure out what makes Israeli art what it is and learn about its relationship with the Zionist narrative as well as the international art world. Tour the extensive Israeli collection at the Tel Aviv Museum of Art and visually explore the Israeli narrative from the early 20th century until today. Alongside her art practice, Shirel lectures, leads art tours, teaches art and is an art consultant to a variety of private groups and institutions among them Bezalel Academy of Art and Design, Alma Hebrew college, Classrooms Without Borders, Ashdod Museum of Art, Azrieli LTD, Hartman institute and more. Drawing from multiple fields of knowledge, Shirel weaves into each experience aspects of social issues, politics, economy, religion and more to create a vivid and nuanced image of the Israeli reality. Her knowledge, passion and love of all that is Art, Tel Aviv and Israeli history are nothing less than contagious.

Gallery hopping with Shirel - Continue with Shirel to the most interesting, colorful galleries that Tel Aviv has to offer

EatWith - Home Hospitality

Tel Aviv

: Tel Aviv
6 - Saturday ( October 14 ) : Explore Tel Aviv on your own
v
8 - Monday ( October 16 ) : What These Shores Have Seen
v
Activities:
Breakfast at your hotel - And check-out from hotel

Travel north

Amphora Winery - Visit Amphorae Winery which deserves the coveted title of Israel's most beautiful vineyard and can compete with rural vineyards around the world. At the heart of Makura Farm on Moshav Kerem Maharal in the north, decorated with a stone mosaic and shaded by a red tile roof, is the lovely winery building, with the forested slopes of the Carmel mountain ridge in the background.

Visit Artists village Ein Hod - Visit the galleries and see the different artists working on their masterpieces

Continue to Akko

Lunch at Uri Buri - For the past 40 years , the popular Uri Buri restaurant has offered a variety of delicately prepared fresh fish and seafood dishes, and boasts a wine list with over 100 different kinds of fine Israeli wines.

Short tour in Akko - The ancient city of Akko is situated on the Mediterranean, is one of the oldest ports in the world, and a city shared by Jews and Muslims. Walk narrow streets past towering ramparts, deep moats, green domes, venerable synagogues, slender Muslim minarets, and secret passageways. Discover the subterranean city built in the Middle Ages by the Crusaders beneath Akko. Learn about the city's ancient history as well as its important role in Israel's modern history.

Druze Cooking Workshop and Dinner - Together with your hosts in their private home, prepare traditional Druze Galilean dishes and then enjoy the feast you create. Learn about Druze culture and history from your hosts and from the food you eat.

North

: North
9 - Tuesday ( October 17 ) : Abundance
v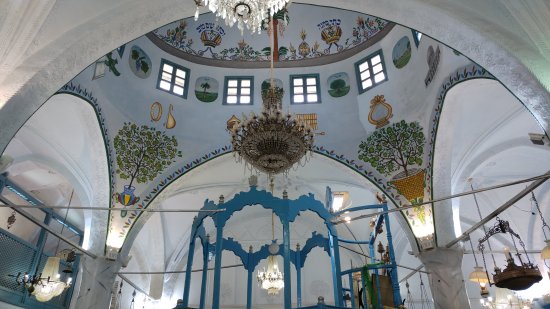 Activities:
Breakfast at your hotel

Tour Safed - Safed, pronounced Tzfat in Hebrew, sits at a higher altitude than any other city in Israel and has been known since the 16th century as a major center of Kabbala, Jewish mysticism. Safed's mystical aura adds to its special status as one of Israel's four holy cities, along with Jerusalem, Tiberias and Hebron. The old synagogues, narrow alleyways and artists' studios add to the hilltop city's unmistakable charm.

Lunch at Havat Rom - A visit to a magical organic farm, located on a mountain with a beautiful view of Meron Mountain. This is an agricultural organic farm, where they use ancient knowledge along with modern tools. Trying to find the balance between humans and nature. Enjoy a light meal from the fresh produce and excellent cheese.

Kibbutz Contemporary Dance Company (KCDC) - See the Kibbutz Contemporary Dance Company (KCDC) in action, meet with the dancers and even engage in a dance workshop!

Visit The Arak Distillery in Me'iliya - The distilllery lies in an ancient building constructed in 1914, and it belongs to the Kassis family, an agricultural family who made their living in the past cultivating tobacco and olive groves.
Today, they produce Arak, the oldest spirit in the world!

North

: North
10 - Wednesday ( October 18 )
v
Activities:
Breakfast at your hotel - And check-out from hotel

Beit She'an National Park - One of the main pagan towns during Roman rule of the region 2,000 years ago, and in the shadow of an important biblical city, Beit She'an contains a magnificent theater, Roman bathhouses, mosaics and more. It is considered one of the most well-preserved Roman sites in the region.

Weizmann Winery - A boutique winery that was established in the basement of the family home in Beit Shean. Yitzchak Weizmann, the founder, made his childhood dream come true 2005 and established his own winery. Since then, He has produced dry red wine, Port, liqueurs from natural fruits only and Arak from grapes.

Lunch with Uri Mayer Chizzik Sustainable Eating - Get to know local, wild food from nature– and dishes prepared today from food that has grown here throughout history with Dr. Uri Mayer-Chissick, an expert on the history of local food and nutrition in the Middle-East and author of the Israeli guide to foraging wild edible plants, hike and cook outdoors.

Panoramic View from the Mount of Olives - The Mount of Olives offers a panoramic lookout over the city. There are countless Jewish, Christian and Muslim traditions about Mt. Olives, including that from here the Messiah will come, and from here the dead will be resurrected in the vision of the End of Days. Enjoy a beautiful lookout of the Holy Basin, the old and new city of Jerusalem.

Jerusalem

: Jerusalem
11 - Thursday ( October 19 ) : The Jerusalemite Art
v
Activities:
Breakfast at your hotel

Musrara Neighborhood - Musrara neighborhood – tour the neighborhood, on the seam line between East and West Jerusalem, and discover the Israeli version of the "Black Panthers".

The Museum on the Seam - Is a socio-political contemporary art museum, located on the geographic seam line between East and West of Jerusalem, in the meeting point of the three religions. The Museum, in its unique way, presents art as a language with no boundaries in order to raise diverse social issues for public discussion and bridge the gaps.

Lunch at MachneYuda - "This restaurant is considered one of the best in Jerusalem, possibly the country. Celebrity chef, Assaf Granit, grew up in Jerusalem and pays homage to the city's colors and cacophony in his elegant dishes. The menu changes twice daily, but it nearly always includes chamshuka, a fusion of chopped meat and hummus, and a raucous dessert ceremony of ice cream flung on tables covered in aluminum foil."

Machane Yehuda Market - In the heart of Jerusalem sits this bustling multi-ethnic market bursting with life, art, and flavor. A tasting tour through Machane Yehuda Market is an adventure for your taste buds. Enjoy the hustle and bustle with all the rich fragrances, colors and sounds this iconic Jerusalem market offers.

Hamiffal - Hamiffal, "The Factory" is an art community that turned an abandoned 19th century building in the heart of Jerusalem into a shared platform for art and culture. This stunning space wraps itself around you with it's complexity and intrigue.

Jerusalem

: Jerusalem
12 - Friday ( October 20 )
v
Activities:
Breakfast at your hotel

Old City Tasting Tour - Walk through the Muslim and Christian Quarters of the Old City seeing the historical and religious sites. See some off-the-beaten track sites in the winding alleyways and enjoy some Jerusalem delicacies. We will have a "taste of history" that interweaves stories and anecdotes, historical information, and, of course, combines the senses of smell, taste, and sound.

Feel Beit - Feel Beit is a cultural home for creating art, expanding perspectives, and imagining new ways forward for Jerusalem. "We are a group of Israelis and Palestinians who create art and music to bridge divides in Jerusalem. Everything we present is rooted in love for the diverse people of this place. We are driven by the conviction that when all else breaks down, art and music must break through." Mekudeshet is an award-winning, cultural organization that creates original art and music to reimagine Jerusalem from being a center of conflict into a laboratory for connections between people of all kinds.

Jerusalem

: Jerusalem
13 - Saturday ( October 21 )
v
Activities:
Breakfast at your hotel

Tour Ein Kerem - Tucked into the hills of Jerusalem is the biblical Ein Kerem, whose name means "the spring in the vineyard." Step into another world while you visit this quaint neighborhood.

Castel Winery - Castel's philosophy and winemaking values are an inseparable part of the winery– harmony, esthetics, refinement, patience, elegance and precision; all these guide us when creating the wines we love to drink. Wines with a strong presence and stamina, but with a hint of "down to earth" modesty.

Optional Concert - Depending on concerts schedule

Farewell Dinner at Hansen House - At Offaime Restaurant you are invited to savor the food and take part in the move to flavorful, organic, and environmentally conscious agriculture. The restaurant focuses on handmade produce that is crafted slowly using traditional techniques to create food that is tasty and healthy and packaged with complete respect for the environment and for the people who take part in the creative process. The restaurant's unique setting in Beit Hansen brings another element to the experience - it sits in one of the first hospitals established in Jerusalem in the mid-19th century, by the Joint Anglican-German Protestant Community in Jerusalem.

Jerusalem

: Jerusalem
14 - Sunday ( October 22 )
v
Activities:
Breakfast at your hotel - And check-out from hotel

Transfer to Ben Gurion Airport

Farewell - We look forward to hosting you in our beautiful country again soon!
Terms of Payment
Deposit is due immediately to secure the booking.
Balance for the trip is due no later than 45 days prior to first day of trip.
Please refer to our full Terms and Conditions here.
Cancellation Policy
Bookings can be cancelled within 48 hours, with a full refund.
Should it be necessary to cancel or postpone the tour due to force majeure circumstances, or Israeli government-imposed/air flight restrictions related to COVID-19,  a full refund may be possible, minus a $200 per person service fee.

For cancellations made:
Up to 45 days prior to departure, any payments made above the deposit towards the tour will be refunded. The deposit is non-refundable
45 to 30 days prior to departure, 50% of the total tour cost per person will be refunded
29 to 8 days prior to departure, 25% of the total tour cost per person will be refunded
7 to 0 days prior to departure, the client will incur 100% of the cost of the tour
Should members of a group booking cancel their participation, their deposits cannot be applied to the balance payment of other group members.
All cancellation requests must be made in writing.
Know before you go
Helpful articles from our Israel travel blog