Itinerary
1 - Sunday (June 26) : End of Core Trip
v
2 - Monday (June 27) : Petra
v
Activities:
Early breakfast at the hotel

Transfer to airport and flight to Eilat

Transfer to the Arava Border Crossing and drive to Petra - You will be guided through the border crossing by our agent and be greeted on the other side of the border by your Jordanian driver and guide.

Tour Petra - Visit Jordan's Jewel, The Capital City of the Nabateans, a city fully carved in the rose red stones of Wadi Mousa Mountains. Upon arrival, you will take a horse back ride (optional), walk through the Siq, the only access to this city. Lunch included. Petra is a vast, unique city, carved into the sheer rock face by the Nabataeans, an industrious Arab people who settled here more than 2000 years ago, turning it into an important junction for the silk, spice and other trade routes that linked China, India and southern Arabia with Egypt, Syria, Greece and Rome. Despite successive attempts by the Seleucid king Antigonus, the Roman emperor Pompey and Herod the Great to bring Petra under the control of their respective empires, Petra remained largely in Nabataean hands until around 100AD, when the Romans took over.

Dinner at the hotel

The Old Village Resort Petra

Overnight: The Old Village Resort Petra
3 - Tuesday (June 28) : Wadi Rum
v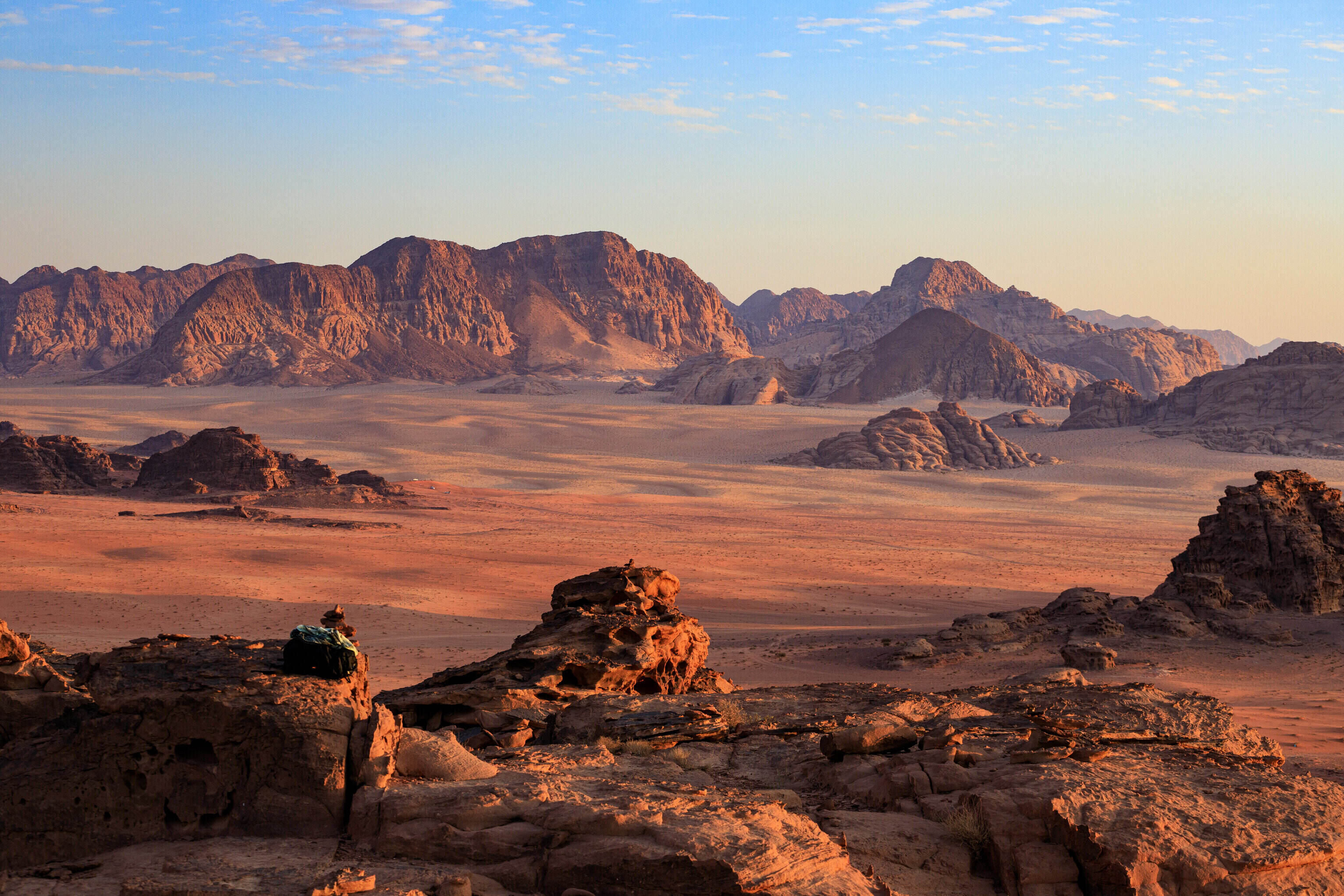 Activities:
Breakfast at the hotel

Drive to Wadi Rum

Morning in Wadi Rum - Wadi Rum is a protected desert wilderness in southern Jordan. It features dramatic sandstone mountains like the many-domed Jebel Um Ishrin, and natural arches such as Burdah Rock Bridge. Many prehistoric inscriptions and carvings line rocky caverns and steep chasms, such as Khazali Canyon.

Return to Israel through Arava Border Crossing and transfer to airport

Flight to Ben Gurion Airport

Overnight: Flight to Ben Gurion Airport
Terms of Payment
Deposit is due immediately to secure the booking.
Balance for the trip is due no later than 45 days prior to first day of trip.
Please refer to our full Terms and Conditions here.
Cancellation Policy
Bookings can be cancelled within 48 hours, with a full refund. $200 per person service fee, will not be refunded. 
Full refunds or changes will be possible for cancellations made as a result of force majeure circumstances, or due to Israel-imposed governmental or air flight restrictions related to COVID-19. In that case, $200 per person service fee will not be refunded.

Cancellations up to 45 days prior to departure, the deposit per person will be charged (non-refundable).
Cancellations between 45 to 30 days prior to departure, entail a cancellation fee of 50% of the tour cost per person.
Cancellations between 29 to 8 days prior to departure, entail a cancellation fee of 75% of the tour cost per person.
For 7 to 0 days prior to departure entail a cancellation fee of 100% of the cost of the trip
Should members of a group booking cancel their participation, their deposits cannot be applied to the balance payment of other group members.
All cancellation requests must be made in writing.
What's Included

A private, licensed, English speaking tour guide and transportation
v

Airfare
v

Fees for sites and activities listed
v

Hotel accommodation
v

Group transfers to & from the airport
v

Meals as listed in the itinerary
v

COVID-19 testing (when required)
v

Travel Insurance (recommended)
v

Tips for tour guides and drivers
v
Know before you go
Learn all about the things that you want