Itinerary
1 - Sunday (October 24)
v
Activities:
Breakfast at the hotel

Depart for the south

Avdat National Park - Explore the desert at the Nabatean Spice Route at Avdat, which is over 2,000 years old. Learn the history of the desert's significance on the culture and flavors of Israel.

Kerem Ramon - Wine tasting at the Kerem Ramon Winery whose wines are produced from top-quality grapes that come from organic vineyards and cared for entirely by human hands- no mechanical machines are used.

Dinner at the hotel

Beresheet - Beresheet

Overnight: Beresheet

Meal Plan: Breakfast, lunch and dinner
2 - Monday (October 25)
v
Activities:
Beresheet - Beresheet

Maktesh Ramon Hike - Maktesh Ramon Hike

Jeep Tour in Mitzpe Ramon - From the top of the Atzmaut Ascent and descend into the Makhtesh and cross to Wadi Ramon. Continue to the summit of Mt. Gvanim which offers a stunning view of the entire Makhtesh and from there along Wadi Gvanim then continue to the Ein Sahronim spring and the nearby Nabatean ruins. During the jeep tour you will have time to hike various parts of the crater.

Lasha Bakery - When it's time for lunch meet Hadas Meir of the Lasha Desert Bakery who will guide you in a bread baking workshop. "For Meir, baking is a spiritual thing. 'I think bread is a blessed food. It is the most moving interpretation of combining matter and spirit. Even physically, bread is spiritual in essence. You'll have a lunch of salads and bread.

Time to enjoy the hotel

Via Sabra - Desert Dinner- it's not a mirage! Your evening awaits under the stars with a taboon for bread making, smoked meats, spirits, desert music, star-gazing, and the most magical dinner you've ever had.

Beresheet - Beresheet

Overnight: Beresheet

Meal Plan: Breakfast, lunch and dinner
3 - Tuesday (October 26)
v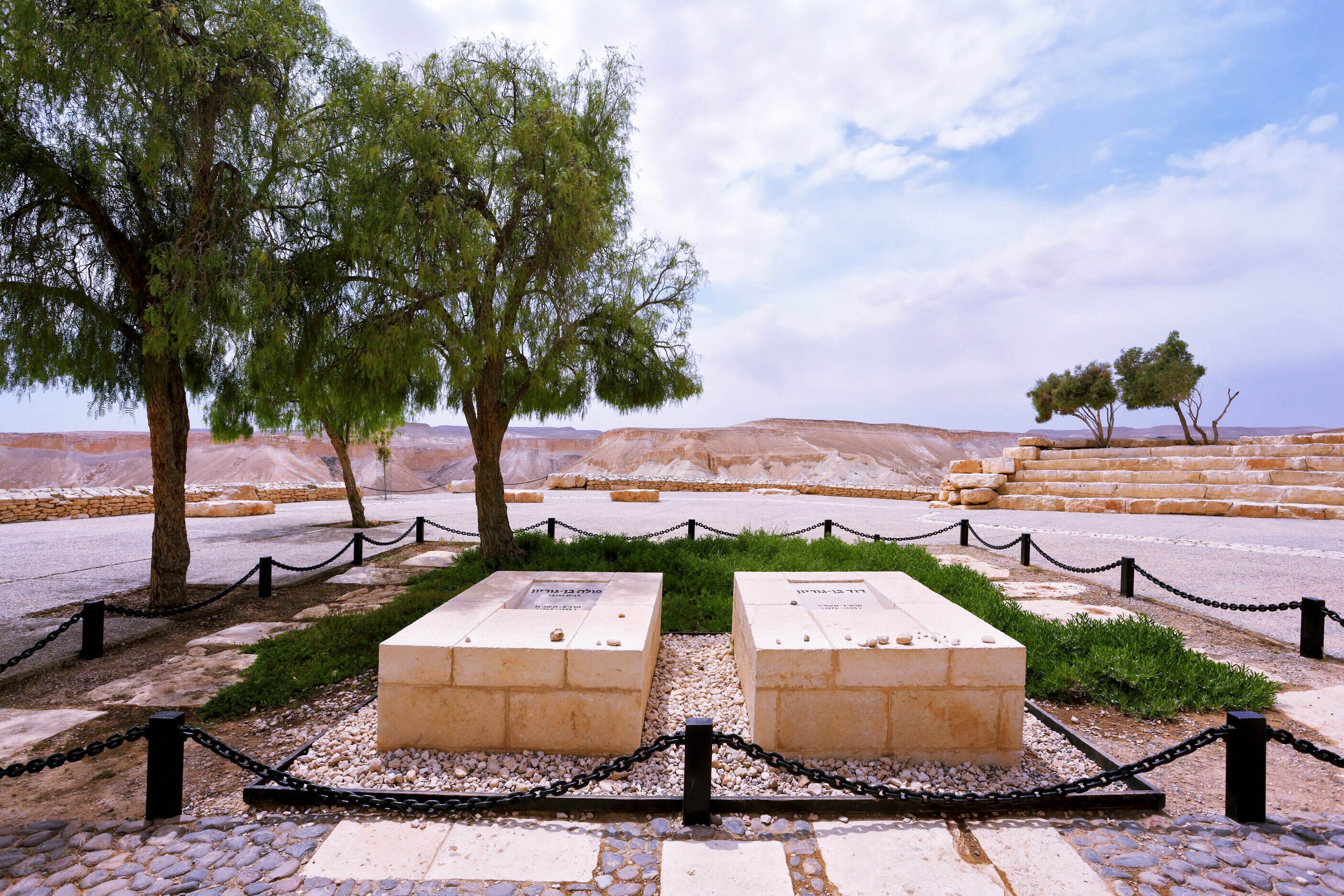 Activities:
Breakfast at the hotel

Morning to use the hotel facilities

Depart hotel

Sde Boker - Stop at Sde Boker to visit the grave of David Ben Gurion, Israel's first Prime Minister, whose vision for settling the desert is continuing to bloom. Throughout the day, you'll see his vision come to life.

Drive to airport for departure or Tel Aviv

Overnight: Drive to airport for departure or Tel Aviv

Meal Plan: Breakfast and lunch
FAQ
What's the weather like in Israel?
v
It is always best to check the weather forecast beforehand as the weather during Spring and Fall seasons can be unexpectedly warm or cold.

Spring (late March – May): Daytime temperatures are generally very pleasant - around 65-70°F, though it can still be hot in some areas (such as the Dead Sea and Eilat). There is a slight chance of rain, but it doesn't happen often. It can be cooler in the evenings in the North and Jerusalem - approximately 45°F.

Summer (late May - late September): Temperatures are usually in the high 80s-90s. At this time of year, humidity will be highest in Tel Aviv and Tiberias. Other areas such as Jerusalem are drier and cooler, particularly at night. The desert, Masada and Eilat are extremely hot, but dry. It will almost never rain in the summer in Israel!
Fall (late September – November): Same as Spring, but the rain can begin towards the end of the season.
Winter (December - early March): Winter can be mild and sunny, or severe and overcast. There's often heavy rain and, in January and February, even snow at times! Temperatures will be in the 50s-60s most places, but in the 40s in Jerusalem and the Galilee hills, and cold at night. Pack layers and be prepared for anything!
Terms of Payment
Deposit is due immediately to secure the booking. All deposits are refundable for 48 hours from the time of booking. After that – the deposit is non refundable.
Balance for the trip is due no later than 45 days prior to first day of trip.
Please refer to our full Terms and Conditions here.
Cancellation Policy
Bookings can be cancelled within 48 hours, with a full refund.
Full refunds or changes will be possible for cancellations made as a result of force majeure circumstances, or due to Israel-imposed governmental or air flight restrictions related to COVID-19.

Cancellations up to 45 days prior to departure, the deposit per person will be charged (non-refundable).
Cancellations between 45 to 30 days prior to departure, entail a cancellation fee of 50% of the tour cost per person.
Cancellations between 29 to 8 days prior to departure, entail a cancellation fee of 75% of the tour cost per person.
For 7 to 0 days prior to departure entail a cancellation fee of 100% of the cost of the trip
Should members of a group booking cancel their participation, their deposits cannot be applied to the balance payment of other group members.
All cancellation requests must be made in writing.
Know before you go
Learn all about the things that you want