Itinerary
- ( January 1 ) : Welcome to Israel
v
Activities:
VIP Arrival - Arrival at Ben Gurion airport. Your VIP agent will be waiting to greet you at the sleeve of the plane. After assisting with arrival procedures and collecting your baggage, you will be taken to meet your driver. We can arrange this for the group, or for those who arrive independently.

Optional: Activities will depend upon arrival time

Time at the Kotel before Shabbat - The Kotel, (The Western Wall), sacred because it is the last remnant of the Second Temple that was destroyed by the Romans. Feel the stones that have witnessed so much in the history of the Jews. Personal time to reflect.

Time to prepare for Shabbat

Kabbalat Shabbat with the group at the Cinematheque Terrace - Bring in Shabbat with a spectacular view of the Old City.

Shabbat Dinner at the hotel - As we come together for Shabbat, we will enjoy Shabbat dinner in a private room at the hotel, giving us a chance to connect and get to know one another.

Oneg Shabbat - Enjoy hot spiced cider and conversation about our goals for our time together

Isrotel Orient Jerusalem
- ( January 1 ) : Shabbat Jerusalem Style
v
Activities:
Breakfast at the hotel

Shabbat tefilot options at local synagogues

Option 1:Walking tour of Nachlaot and Lunch - Magical and mysterious Jerusalem has always attracted writers, poets, and intellectuals, who, in their words, made it Jerusalem of Gold. We will join for a walking tour of the Nachlaot neighborhood, touring through the eyes of your tour guide Josh Weisberg. Josh lived in Nachlaot for many years and loves to offer his own perspective which focuses on art, poetry and culture. This tour will end in his home where we will have a delicious light summer late lunch.

Option 2: Shabbat Brunch - In private setting indulge in a Jewish Shabbat Brunch. Enjoy the variety of classic ethnic foods that are part of the Shabbat day meal. These dishes are brought directly from the homes in which the food was cooked for families that share their heritage and flavors.

Conversation with Dan Feferman - Dan Feferman is the Director of Communications and Global Affairs at Sharaka, an NGO that works to build people-to-people peace between Israel and the Arab world. Dan is also a founding member of the UAE-Israel Business Council, and founded and heads the Gulf-Israel Policy Forum.

Stroll through the beautiful urban Park Hamesila - You'll stop along the way for Havdalah to usher out Shabbat.

Motzei Shabbat: Dinner on your own - Optional cultural experience according to availability. We are happy to make suggestions as to dinner and activities. Perhaps there will be music or other experience possible.

Isrotel Orient Jerusalem
- ( January 1 ) : Bridging Cultures
v
Activities:
Breakfast at the hotel

Tour the greater Jerusalem area with Colonel Danny Tirza - Tirza is a Security Expert and architect of the Security Barrier. View the city from many angles and engage in a conversation about the complexity of the barrier.

Visit to Sinsila and Muslala - Visit to Sinsila and Muslala"SINSILA" in Arabic means the natural stonewalls, also called "Salasal", which are medium-sized stones, close to each other, in the form of monolithic chains. The Sinsila center is located in the heart of East Jerusalem, on the terraces of the Central Library. It is dedicated to educate, inspire, create with, and empower, local communities. Its goal is to heal the urban environment of Jerusalem by providing local and sustainable solutions. Sinsila's plan action has three main focus points: employment, inspiration, and education. It aims at having a multidimensional approach in order encompass healing the city, community work, urban planning, economic empowerment, sustainability, and ecology.

Stop for lunch in Mahane Yehuda

Drive south

Check in at Beresheet - Check into Beresheet by 3pm and have a chance to enjoy the hotel facilities (should you wish to make any spa treatments, we can assist)

Dinner at Hotel - We will be joined by Eran Doron, mayor of Ramat Hanegev, who will be with us for our time in the Partnership2Gether region.

Optional: Stargazing - Mitzpe Ramon is among the best locations in Israel (and in the world!) for stargazing. Why? Because down here, less is more: Less people, less cars, less streetlights and less businesses, meaning more darkness, more space, more stars, and a lot more time to watch the stars…
You'll enjoy a combination of spectacular astronomical telescope observations (according to what is visible that night) accompanied by mind-blowing explanations and facts about our universe, along side mythological heroes namedropping and famous myths related to the star constellations we'll see.

Overnight: Beresheet
- ( January 1 ) : The Fruits of Partnership
v
Activities:
Breakfast at the hotel

Early morning yoga or walk around the edge of the Makhtesh - Early start this day as we will spend the entire day in our Partnership region.

Kibbutz Sde Boker - In the bare Negev desert lies Kibbutz Sde Boker, an unexpectedly bright green square of irrigated fields that was the beloved home of David Ben-Gurion, the first Prime Minister of Israel, and his wife, Paula. From their graves to the hut where he lived and the gardens where he worked, discover what made Ben-Gurion choose this modest kibbutz in the Negev.

Day in the Region - JEWISHcolorado's decades-long partnership with the Ramat HaNegev region leverages social, human, and financial resources here in Colorado and in Israel as a means to inspire community engagement and development.

Through relationships, education, culture, and community-building initiatives, JEWISHcolorado and Ramat HaNegev have built—and continue to build—a solid foundation for the future generations in Israel and a connection to the land and its people that is both deep and strong.

Day to include: Nitzana Education Community, Security briefing on the border, afternoon wine tasting at Ramat Negev Winery, learning about all the agricultural endeavors as we make the desert bloom, and more!

Lunch with Lone Soldiers and the Masait- Food Truck - The "MASAIT" (truck in Hebrew) in the middle of the desert is the most popular restaurant on wheels in the area run by chef Nir Alkasi. Nir cooks his delicious foods and is also known by soldiers as "Nir, the Shnitzel King of Nitzana." Hit the road, everybody, visit K'Mehin and make sure to ask Nir what the special of the day is at the "Masait".

Evening- Dinner and Out of the Desert - Music of Ramat Hanegev - Enjoy a desert dinner under the stars and evening of music with The Shargi Ensemble, made up of Jewish and Bedouin musicians and led by Ramat HaNegev native David (Dudi) Itzhaki, who will play a set of original songs composed by Itzhaki. Your evening awaits under the stars with a taboon for bread making, smoked meats, spirits, desert music, star-gazing, and the most magical dinner you've ever had. The evening will include a 'shuk' of local businesses as well as a desert wine-tasting featuring the wines of the area.

Overnight: Beresheet
- ( January 1 ) : Tel Aviv-The First Hebrew City
v
Activities:
Breakfast at the hotel and check out

Depart the hotel at 11:00

Drive to Tel Aviv - After checking out we will make our way to Tel Aviv.

Carmel Market Tasting Tour - Continue to Carmel Market (Shuk HaCarmel), the largest market in Tel Aviv. Touring the market reveals the taste of the ages of Tel-Aviv in the youthful atmosphere of the city's central market. The Polish, the Persian, and the Yemeni... in this case, it is not the start of a joke, but the fascinating culinary traditions that mix in this place. The established market that was founded over 90 years ago, can now reveal its secrets, stories, and legends to you. (The tasting tour replaces lunch)

Private tour of ANU Museum of the Jewish People - In June 2021, after ten years of planning and construction, the largest Jewish museum in the world opened its doors. You're invited to join a fascinating journey that portrays the story of the Jewish people through the generations and up to the present time. The Museum represents all parts of the Jewish people and highlights the creative works and cultural riches of a variety of communities in different periods of history. This story is about all of us and each and every one of us is part of it.

Israeli Cuisine with Foodish - Foodish is the new culinary arm of ANU – the largest Jewish Museum in the world, which brings the story of Jewish food to the forefront. Enjoy wine and light bites for a "taste" of Foodish.

Check into hotel - After checking into hotel, enjoy evening on own. We will be happy to make restaurant recommendations and reservations. As it gets closer to the trip, we will provide options for cultural experiences in town.

Isrotel Royal Beach Tel Aviv
- ( January 1 ) : Culture and Identity and Welcome to Dubai
v
Activities:
Breakfast at the hotel and check out

Optional tours - This morning you will have the chance to choose between two optional tours. If time allows, we will offer the same tours twice, dependent upon our flight time to Dubai.

Option 1: Start Up Nation - To some, Israel is known as the nation of startups and innovation. Here is where cherry tomatoes and the Flash Drive were invented. It's home of WAZE, WIX, Soda Stream, and many more High-Tech companies who lead the world in the fields of medicine, agriculture and homeland security.
We will meet with two start up companies, one in the early phase of development, learning about its challenges and successes, the second, a more mature startu up, where you will gain an understanding of what it took to get there.
We will also learn about Tech2Peace, which provides high-tech and entrepreneurial training alongside conflict dialogue to young Palestinians and Israelis. They partner with leading organizations like Google for Startups, Microsoft, and MIT to provide the best professional opportunities.

Option 3: Fashion Tour - The tour addresses the relationship Israeli fashion has with the various aspects of living in Israel including identity questions, sub-groups in Israel, immigration to Israel, wars and cultural life and social entrepreneurship. Meet old and new fashion brands, designers who use ancient crafts and other professionals who use the best technology. We will walk, talk and shop.

Final lunch in Israel - We will enjoy lunch together and talk about the days ahead as we make our way to the UAE. How has what we have learned in Israel shown us the power of the Abraham Accords? What lessons can we bring and what lies ahead?

VIP Departure - Depart from Ben Gurion Airport to Dubai.

Meet, greet and assist by Marhaba VIP concierge - Guests will be met at arrivals gate by Marhaba representatives that will guide and assist through airport formalities, porter assistance and guide to hotel transfer location

Welcome Dinner and Reception at Armani Kaf - Welcome dinner reception with guest speakers Rabbi Ross Kriel and Mr. Alex Peterfreund, Co-Founders of the Jewish Council of the Emirates. Joined by Emirati young leaders focused on building the future -- Social Media Influencers and Hebrew speakers Hamdan Al Kindi, Loay Al Shareef and Alanoud Al Hashmi, CEO of the Futurist Company, Ben Taylor Marketing Emirates Airlines, Rashid and Sarah A Malik

Overnight: Dubai - Overnight: Address Fountain Views

: Overnight: Dubai
- ( January 1 ) : Abu Dhabi-Capital of the UAE
v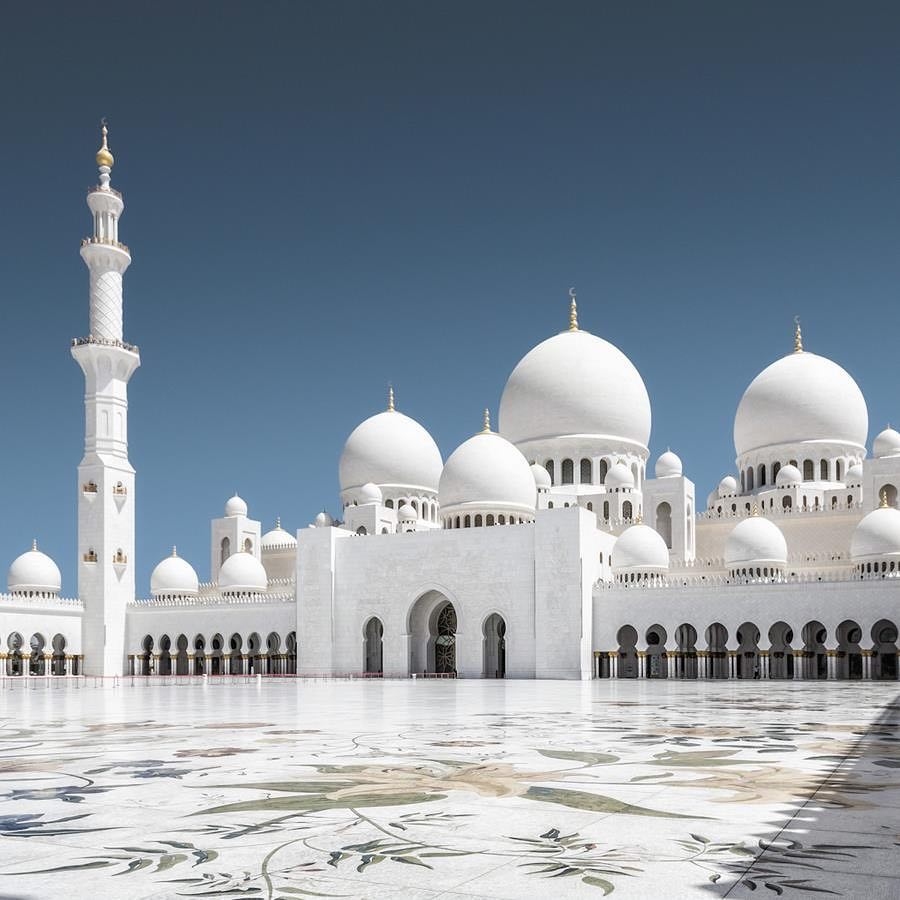 Activities:
Breakfast at the hotel

VIP Tour of Sheikh Zayed Grand Mosque - Abu Dhabi's Sheikh Zayed Grand Mosque is one of the world's largest mosques and an architectural masterpiece that beautifully combines Islamic architecture and design. Sheikh Zayed bin Sultan Al Nahyan, the Founding Father of the UAE, had the mosque built in the capital city Abu Dhabi to create a cultural haven that welcomes and inspires people from all backgrounds. Joined by Dr. Saif Al Shaali, Vice Chancellor - Mohammed Bin Zayed University for Humanities

Private tour of Qasr Al Watan, Presidential Palace

Lunch at the Louvre Museum Cafe - Joined by Mr. Saoud Bin Hamoodah, Emirati youth leader and winner of the Khalifa Award for Education, who recently returned from Israe

Private tour of the Louvre Abu Dhabi - The Louvre Abu Dhabi was inaugurated in 2017. The result of an unprecedented partnership between France and the United Arab Emirates, it is France's largest cultural project abroad. There are three cornerstones to its success: its spectacular architecture, the richness of its permanent collection (thanks to loans from the Louvre and other French museums), and the quality of its temporary exhibitions. Joined by senior museum executive or head museum curator

Private visit of the new Abrahamic Family House, which will include a Mosque, Church, Synagogue and Educational Center lead by Project Manager - The Abrahamic Family House, slated to open in late 2022, will be a collection of three religious spaces: a mosque, a synagogue and a church, all of which will sit upon a secular visitor pavilion. The house will serve as a community for inter-religious dialogue and exchange, nurturing the values of peaceful co-existence and acceptance among different beliefs, nationalities, and cultures. (NOTE - WE WILL SEE WHERE THIS STANDS AS IT GETS CLOSER...AND IF OPENED THEN YOU WILL ENJOY A PRIVATE TOUR)

Afternoon Tea at Emirates Palace Hotel - Joined by His Excellency Marc Sievers, AJC Abu Dhabi Director and previous US Ambassador to Oman, Huda Sievers, His Excellency Saleh Mohamed Al Geziry, Director General of Abu Dhabi Tourism Board and Canadian Ambassador Marcy Grossman.

Qasr Al Watan, Presidential Palace - Qasr Al Watan is an incredible, new and unique landmark in the United Arab Emirates. The visitor experience at Qasr Al Watan is an inspiring and educational tour of Emirati and Arabian excellence. Here, visitors will learn about the principles that have propelled traditional Arabian design to remarkable status. Visitors will also gain a rare insight into Emirati governance and culture through the Palace's exhibits. Most notably, visitors will enjoy exploring the expansive selection of timeless books and manuscripts at House of Knowledge and Qasr Al Watan Library. Witness the Palace come to life in a spectacular light and sound show that celebrates the UAE's journey in three breathtaking acts that unfold in front of the main Palace.

Platinum Desert Safari and dinner experience - Dubai's most luxurious desert safari includes a desert drive, fine dining menu and captivating entertainment of acrobatics and fire. Exclusive sunset falconry performance in luxurious majlis with sparkling juice and canapés, 10-minute camel ride, fine dining menu. Shisha & Captivating entertainment of an acrobatic performance with a fire show Tanoura and belly dancer

Return to Dubai

Overnight: Dubai - Overnight: Address Fountain Views

: Overnight: Dubai
- ( January 1 ) : Modern Dubai - Envisioning the Future
v
Activities:
Breakfast at the hotel

Visit the Dubai Frame - Rising 150 meters from Dubai's Zabeel Park, the "World's Largest Picture Frame", offering up panoramic views of the skyline while framing views of iconic buildings such as the Burj Khalifa. Invited Guest and Frame engineer, Dr. Eli Hamadimann

Visit the Mini Miracles Jewish Nursery and Education Center - Dubai's first-ever Jewish cultural space, aptly named Abraham's Miracles Cultural learning Center, its a place to gather and learn, not just for the Jewish community across the city, but for the UAE as a whole, the Jewish community worldwide, and for intercultural engagement with individuals from all backgrounds. It is home of the first Jewish nursery in the UAE and the gulf: Mini Miracles Nursery, currently serves children ages 18 months to four years. The purpose is to bring children together in a happy, tolerant, open minded place. Core values and principles are to be taught with high academic standards while catering to different languages, including French, English, Arabic and Russian. There is also a center for Jewish identity called the Abraham Miracles Center, which is structured for teenagers and adults. Participate in Shabbat programming and hands-on activity with the children

Catered lunch at Mini Miracles Center - Joined by guest speakers Sonia & Alec Sellem, Mini Miracles Founders, Jonathan Fried, Mini Miracles Chair

Return to hotel/Free time/Prepare for dinner

Kabbalat Shabbat Services / 7:00pm Shabbat dinner with members of the Dubai Jewish Community at The St. Regist Palm Hotel - Join one of the first Jewish community established in the UAE. Lead by Ross Kriel, Co-Founder of Dubai Jewish Community, Co-Founder and Representative to the Community Development Authority
OR
Private Yacht Kosher Dinner

Overnight: Dubai - Overnight: Address Fountain Views

: Overnight: Dubai
- ( January 1 ) : Shabbat in the UAE
v
Activities:
Breakfast at the hotel

Shabbat Services and Shabbat lunch with members of the Dubai Jewish Community at The St. Regis Palm Hotel - Join one of the first Jewish community established in the UAE. Lead by Ross Kriel, Co-Founder of Dubai Jewish Community, Co-Founder and Representative to the Community Development Authority

Visit to Crossroad of Civilizations Museum and the Dubai Holocaust Center - Private VIP tour lead by the Museum Founder His Excellency Ahmed Al Mansoori. It is the home of a Holocaust Memorial Exhibition, which is the first of its kind in the Arab world. The "We Remember" exhibition with first-hand testimonies of Holocaust survivors

Optional site-seeing - A. Visit the Museum of the Future
The Museum of the Future is an exhibition space for innovative and futuristic ideologies, services, and products. Founded by the Dubai Future Foundation, The Museum of the Future seeks to foster solutions to the challenges that future cities face, in addition to housing innovations and being a hub that brings researchers, designers, inventors and financiers under one roof.
B. Visit to Alsekal Avenue
Established in 2008 by founder Abdelmonem Bin Eisa Alserkal, who sought to cultivate a vibrant creative community and support cultural production in Dubai. Spanning 500,000 sqft in the Al Quoz industrial area of Dubai, Alserkal Avenue is home to a community of over 70 contemporary art galleries, visual and performing arts organizations, designers, home grown and entrepreneur-led businesses, and community spaces. As one of the region's foremost destinations for contemporary art, and home to Dubai's risk-takers, makers and wide-ranging creative communities, the Avenue provides cultural experiences for local, regional and international audiences through its extensive year-round programming

6:00pm – VIP Visit to the Top of the Burj Khalifa, the tallest building in the world - Visit to the top of the Burj Khalifa exclusive VIP 155th floor with VIP elevator access with cocktails and canapes

Havdallah and Final Dinner With the Group - Farewell dinner At the Address Downtown Club Lounge Private Terrace or Armani/Kaf Terrace
Joined by Senior Government officials and Senior leaders of the Jewish Community

Overnight: Dubai - Overnight: Address Fountain Views

: Overnight: Dubai
- ( January 1 ) : Bringing it Home
v
Activities:
Breakfast at the hotel

Optional touring for those who wish to stay (additional cost) - Explore the Heritage Project
Explore the Dubai Heritage Village and the Al Shindagha historic district. Located in the Shindagha near the creek's mouth, the Dubai Heritage Village (Hatta Village) provides a glimpse into Dubai's traditional culture and lifestyle, including Emirate's maritime history, pearl diving traditions and architecture. Displays include a tented Bedouin village, ancient armoury, wooden chests and cooking utensils.

Modern Dubai Tour
• Jumeirah Mosque (Photo Stop)
• Atlantis the Palm (Photo Stop)
• Burj Al Arab (Photo Stop)
• Madinat Jumeirah (View)
• Passing by Sheikh Zayed Road
Visit to Dubai Design District
Visit Moors & Saints, a fine jewelry store offering products inspired by Moorish design and architecture. Through each collection, Moors & Saints is mapping Moorish design from where it started in Andalusia and Morocco and how it traveled to places as far as India or Mexico showing up across a multi religious spectrum of sacred sites inspired by Alhambra, the Great Mosque-Cathedral of Cordoba or the Al Qarawiyyin university to name a few. Explore the history of Moorish design and learn how it showed up in churches in Latin America, mosques in South-East Asia and synagogues in Europe... Chama is a cultural entrepreneur and bridge-builder on a mission to promote shared belonging and bring pluralism back to the Middle-East & North-Africa. Lead by Chama Mechtaly, Founder of Moors & Saints, a researcher, a visual artist, a jewelry designer, an intersectional feminist, an advocate for interfaith dialogue and a consultant to NGOs and governments on sustainable peace building and cross-cultural cooperation.

Depart for the airport for return flight - Guests will be met at VIP airport departures by Marhaba representatives that will guide and assist through airport formalities, porter assistance and assist the guest to the airplane boarding gate.

: Overnight: Dubai
Terms of Payment
Deposit is due immediately to secure the booking.
Balance for the trip is due no later than 45 days prior to first day of trip.
Please refer to our full Terms and Conditions here.
Cancellation Policy
Bookings can be cancelled within 48 hours, with a full refund.
Should it be necessary to cancel or postpone the tour due to force majeure circumstances, or Israeli government-imposed/air flight restrictions related to COVID-19,  a full refund may be possible, minus a $200 per person service fee.

For cancellations made:
Up to 45 days prior to departure, any payments made above the deposit towards the tour will be refunded. The deposit is non-refundable
45 to 30 days prior to departure, 50% of the total tour cost per person will be refunded
29 to 8 days prior to departure, 25% of the total tour cost per person will be refunded
7 to 0 days prior to departure, the client will incur 100% of the cost of the tour
Should members of a group booking cancel their participation, their deposits cannot be applied to the balance payment of other group members.
All cancellation requests must be made in writing.
Know before you go
Helpful articles from our Israel travel blog