Highlights
• Trip to Petra and Wadi Ram
• Wine and cheese tasting at a winery
• Tour of Haifa
• Interactive Israeli Innovation Exhibition
Itinerary
1 - Friday (October 28) : In Search Of Israeli Cuisine
v
Activities:
Final Day With Your Group

Leisure Afternoon in Tel Aviv

Friday Night Dinner - Suggestions and booking can be made

Sam and Blondi

Overnight: Sam and Blondi
2 - Saturday (October 29) : Desert Splendor
v
Activities:
Breakfast & check-out from hotel

Transfer to Ben Gurion airport - Your driver will pick you up from your hotel and drive you to the airport. Fly to Ramon airport and transfer to Eilat.
Check-in times on Shabbat: 6.00pm. You can enter the hotel from 4.00pm.

Dinner on own

Eilat

Overnight: Eilat

Meal Plan: breakfast
3 - Sunday (October 30) : Treasury
v
Activities:
Early breakfast & check-out from hotel

Transfer to Jordan - Your driver will pick you up from your hotel and drive you to the Arava border. You'll be assist on the Jordanian side and a private guide and driver will drive you to Petra.

Full day to explore Petra - Visit Jordan's Jewel, The Capital City of the Nabateans, a city fully carved in the rose red stones of Wadi Mousa Mountains. Upon arrival, you will take a horse back ride (optional), walk through the Siq, the only access to this city. Lunch included. Petra is a vast, unique city, carved into the sheer rock face by the Nabataeans, an industrious Arab people who settled here more than 2000 years ago, turning it into an important junction for the silk, spice and other trade routes that linked China, India and southern Arabia with Egypt, Syria, Greece and Rome. Despite successive attempts by the Seleucid king Antigonus, the Roman emperor Pompey and Herod the Great to bring Petra under the control of their respective empires, Petra remained largely in Nabataean hands until around 100AD, when the Romans took over.
Lunch is included.

Dinner at your hotel

Movenpick Resort Petra

Overnight: Movenpick Resort Petra

Meal Plan: breakfast, lunch, dinner
4 - Monday (October 31) : Desert Splendor
v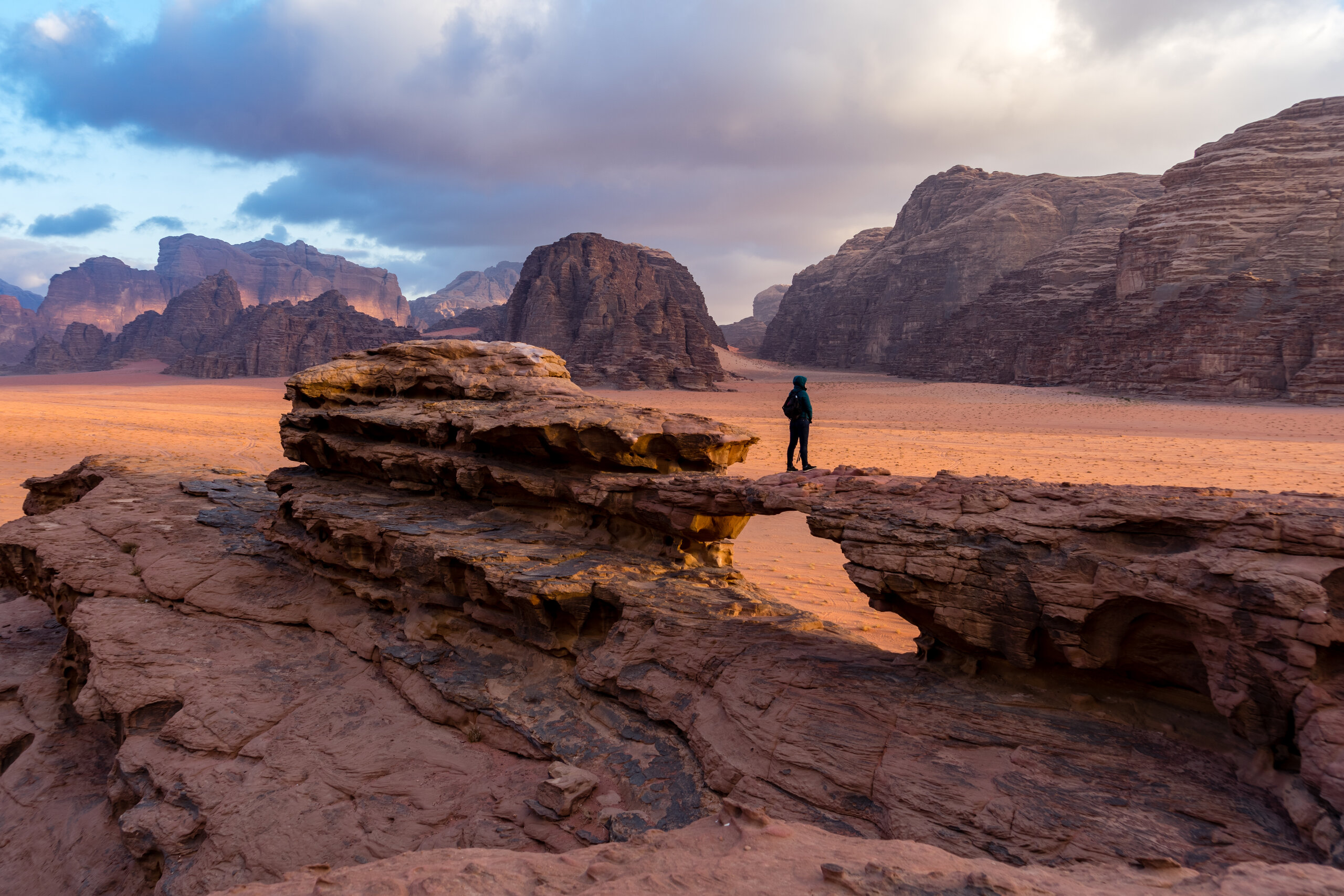 Activities:
Breakfast & check-out from hotel

Explore Wadi Rum - Drive to Wadi Rum Visitors Centre. Enjoy a half hour camel ride from Wadi Rum Village to Lawrence's Spring. Following this, take a full day jeep tour including a freshly prepared barbeque lunch. A jeep tour is the best way to discover lots of sites in Wadi Rum. The jeep will stop at each site giving you time to walk/scramble around and maybe even climb up on some of the beautiful natural formed bridges in Wadi Rum.

Transfer to the border and fly back to Tel Aviv - A driver will meet you at Ben Gurion airport and transfer you to Haifa. Check-in your hotel and enjoy a relaxing afternoon.
Closer to the date if a flight to Haifa will be available on this day we will change it from Tel Aviv.

Evening optional activity - Evening tour of Haifa - the German Colony and the hip "Ir Tahtit" area.

Dan Carmel Haifa

Overnight: Dan Carmel Haifa

Meal Plan: breakfast, lunch
5 - Tuesday (November 1) : Colorful Israeli Mosaic
v
Activities:
Breakfast & check-out from hotel

Visit the magnificent Bahai Gardens - The Baha'i religion originated in Iran in the 19th century with two "Devine Messengers" - the Bab ("The Gate"), and the Baha' U'llah ("The Divine Light"). The Baha'i suffered severe persecution and in 1850 the Herald of the Baha'i faith, The Bab, was executed by Persian authorities. As a result, the community's main prophet - Baha' U'lla - and his 19 followers fled to the Land of Israel, where they were able to operate under the watchful eye of the Ottoman governor. in the 1950's, the Baha'i decided to build their World Center in Haifa: incredible gardens stretch on 19 terraces from the top of Mount Carmel to the bottom, with a golden-domed Shrine in the heart of it - the burial place of the Bab. The Gardens were recognized as a World Heritage Site by UNESCO in 2008.
From the Louis Promenade, on the top of Mount Carmel, we will admire the stunning scenery. Nicknamed the Balcony of the Country, a 400 meter long promenade at the top of the Baha'i Gardens offers a view of the entire Haifa Bay, all the way to the border with Lebanon. This impressive spot offers a truly spectacular view, so have a camera ready!

Lunch and tour at Wadi Nisnas - Wadi Nisnas is one of Haifa's most colorful neighborhoods, full of narrow streets, picturesque stone houses, and the Wadi Nisnas market. It is a mixed neighborhood that captures the nature and atmosphere of the city of Haifa - a city of many faiths and communities, that live alongside each other in an exemplary co-existence. The Wadi Nisnas market is the place to go and experience some of the local flavors: taste pastries, spiced tea, the best falafel in Israel, and strong Turkish coffee, along with other delicatessens and aromas that will have your mouth watering.

Tour Caesarea National Park - Caesarea, built by Herod, was the Roman capital of Palestine as well as important seat of early Christianity. Although it boasted a Jewish community in late antiquity, in the 3rd c., Jewish sages exempted the city from Jewish law (Halacha) because by this time most of the inhabitants were non-Jewish. The extensive seaside ruins here date back to Roman, Byzantine and Crusader times. Explore the 2,000-year-old Roman theater, Crusader harbor and 12th-century ramparts.

Drive to Tel Aviv & check-in

Dinner on own - Suggestions can be made

Tel Aviv

Overnight: Tel Aviv

Meal Plan: breakfast
6 - Wednesday (November 2) : Ancient and Modern Side by Side
v
Activities:
Breakfast at your hotel

Tour Old Jaffa - Begin your day with a tour of one of the most ancient port cities in Israel and the Mediterranean basin. This is the port from which prophet Jonah attempted to escape the word of God (Jonah 1:3). For centuries, the port of Jaffa was the gateway to the Land of Israel. Today Jaffa is a mixed city, where Jews and Arabs live alongside each other. Tel Aviv, Jaffa's much younger sister, was established centuries later, in the year 1909, but the two were united into one municipality already in 1949, yet each part kept its unique feel and atmosphere. Jaffa has been regenerated in recent years with the old narrow streets and courtyards becoming a highly popular part of Tel Aviv's urban tapestry.

On a walk through Jaffa, discover the ancient and modern situated side-by-side. Stroll through the alleyways of the Old City filled with artist studios as well as archaeological discoveries. Discover which Jewish and Christian stories took place in the city.

Time to explore Jaffa's Flea Market - Wind your way through the Flea Market which features everything from antiques to hip new clothing and design stores, cafes, restaurants, and bars.

Continue touring Hatachana and Neve Tzdek - Explore the first train station preserved from the ottoman times- pilgrims, merchants, visitors used the train since end of 19th century. This train connected Jerusalem to Jaffa.
Walk through Neve Tzedek, the first Jewish neighborhood to be built outside of Jaffa and currently one of the most beautiful and desired locations in Tel Aviv. It was built by some of the dignitaries of the old Jewish community of Jaffa in 1887. They were looking to head out of the ever-growing and over-crowded Jaffa, to build what was considered back than modern and comfortable housing. In recent years, after a period of neglect, the neighborhood was resorted and became a trendy fun beautiful part of the city and a good place to try some Israeli Gelato!

Interactive visit at the Birthright Innovation Center - Jump forward in time to the Israel Innovation Center which showcases the many amazing technologies that have been developed in Israel and are now changing the world.

Dinner on own - Suggestions can be made

Tel Aviv

Overnight: Tel Aviv

Meal Plan: breakfast
7 - Thursday (November 3) : Jerusalem Hills
v
Activities:
Breakfast at your hotel

Visit to the beautiful Benedictine Monastery - Abu Ghosh is dominated by the Crusader church of the Resurrection ,whose builder took over from the Muslim caravanserai the idea of the pointed arch - a feature that was to become characteristic of Gothic architecture. In 1899 the French government purchased the building and handed it over to the Benedictine order. Built on to the church is a mosque. The interior of the church is plain but full of atmosphere. In the crypt is the spring which has been an important feature of the site since its earliest days.

Halva tastings at Al Yasmeen - Stop at Al Yasmeen Halva and Tahina heaven to taste some of Israel's best!

Wine Tasting at Domaine Du Castel Winery - Castel's philosophy and winemaking values are an inseparable part of the winery– harmony, esthetics, refinement, patience, elegance and precision; all these guide us when creating the wines we love to drink. Wines with a strong presence and stamina, but with a hint of "down to earth" modesty.

Visit the 9/11 Living Memorial Plaza - Drive through the beautiful Jerusalem Hills along a road that will lead you to the 9/11 memorial monument. Where the form of an American flag transforming into a flame at the tip, with a metal remnant from ground zero embedded at the base.

Farewell dinner

Tel Aviv

Overnight: Tel Aviv

Meal Plan: breakfast, wine and cheese
8 - Friday (November 4) : Jerusalem - Explore on own
v
Activities:
Breakfast & check-out from hotel

Free Time to relax and Explore on Own

Airport Transfer - A private driver will pick you from your hotel and transfer to Ben Gurion Airport and fly back home.
We look forward to hosting you again in our beautiful country.

Fly Back Home

Overnight: Fly Back Home

Meal Plan: breakfast
Terms of Payment
Deposit is due immediately to secure the booking.
Balance for the trip is due no later than 45 days prior to first day of trip.
Please refer to our full Terms and Conditions here.
Cancellation Policy
Bookings can be cancelled within 48 hours, with a full refund.
Full refunds or changes will be possible for cancellations made as a result of force majeure circumstances, or due to Israel-imposed governmental or air flight restrictions related to COVID-19.

Cancellations up to 45 days prior to departure, the deposit per person will be charged (non-refundable).
Cancellations between 45 to 30 days prior to departure, entail a cancellation fee of 50% of the tour cost per person.
Cancellations between 29 to 8 days prior to departure, entail a cancellation fee of 75% of the tour cost per person.
For 7 to 0 days prior to departure entail a cancellation fee of 100% of the cost of the trip
Should members of a group booking cancel their participation, their deposits cannot be applied to the balance payment of other group members.
All cancellation requests must be made in writing.
Testimonials
"Best Vacation Ever! My wife and I just returned from our first trip to Israel. We've traveled domestically and overseas many times. This was absolutely the best trip we've ever taken. I know many people who have gone to Israel and made lots of recommendations to go here, go there, etc... Ros and the crew at Via Sabra were absolutely fantastic. From shaping the trip to meet our schedule, finances, desires, etc... Via Sabra hit the mark on the nose. They made the trip easy from the gitgo with VIP service to and from Israel; no long lines to wait in and an expert on both ends of the trip to help us navigate the airport, customs, passport control, VAT refunds, baggage and our transport to and from the airport. We had a magnificent guide, Mark Kedem, who was made the trip even more enjoyable; beyond our expectations. Mark has an uncanny knowledge of all aspects of Israel including the geography, history, architecture, food, how all the religions interact, etc. It was like a great history class in-country with great food. Mark also steered us to off the beaten path places and restaurants that were truly memorable and unique. We plan to go back to Israel soon (hopefully next year) and will definitely use Via Sabra and Mark again. They're worth every penny!!!!"
Know before you go
Learn all about the things that you want