Special Bringing Israel Home Extension Experience in Tel Aviv and Jerusalem. Explore biblical and modern sites in Jerusalem, the capital of Israel. Stroll Neve Tzedek and Rothschild Boulevard, the first neighborhoods of Tel Aviv, the country's capital of culture and arts. "Hobnob" with artists, chefs, winemakers and young entrepreneurs.
Highlights
• Walk the streets of the first neighborhoods of Tel Aviv, the first Hebrew city in the world
• Meet the people and places that make Tel Aviv the capital of culture in Israel
• Enjoy traditional, yet elevated, Arab cuisine at beautiful venue overlooking the Judean Hills
Itinerary
1 - Friday (April 1) : Welcome to Israel - Bruchim HaBaim
v
2 - Saturday (April 2) : Art & Culture in the Big Orange
v
Activities:
Breakfast at hotel

Tel Aviv-Jaffa Walking Tour - In Jaffa, discover the ancient and modern situated side-by-side. Stroll through the alleyways of the old city filled with artist studios as well as archaeological discoveries. Hear stories relating to Jewish and Christian history and visit the locations where they took place.
OR
The White City Tour. Explore Lev Ha'ir, the Heart of the City, where the first roots of Tel Aviv were planted in 1909. Lev Ha'ir contains some of Tel Aviv's most beautiful buildings, being at the center of the UNESCO designated "White City" known for it's Bauhaus, eclectic, and International Style architecture.
OR
American-German Colony: In 1866, a group of 150 Christian-Americans from Maine and the New England region, led by the eccentric (some say charlatan) preacher George Adams, left the United States, where the Civil War had just ended. They carried with them their faith, and the materials to rebuild their houses in the Holy Land, sailing 42 days to the disease-ridden Middle East.

Lunch on route, on your own

Everything Art & Culture - Meet the artistic scene of Tel Aviv :
- Stroll Kiryat Ham'acha with Tel Aviv based artist. Kiryat Ham'lacha was planned as
Kiryat Hamelacha was planned as a modernist industrial zone, today its a hub for artists, designers, musicians, dancers, small businesses.
- Backstage Tour at Habima Theater, the first Hebrew-speaking theater in the world in the first Hebrew city in the world.

Black Out - Experience dinner that will trigger your senses at BlackOut Restaurant, located in Jaffa Port. In total darkness you will be served various dishes, escorted by blind waiters. There is so much to be "seen" when eyes are closed. Na Laga'at - "Please Touch" Center – the first of its kind in the world, seeks to promote interaction between deaf-blind, deaf, and blind individuals and people able to hear and see, regardless of cultural or social distinctions.

Isrotel Royal Beach Tel Aviv - Isrotel Royal Beach Tel Aviv

Overnight: Isrotel Royal Beach Tel Aviv

Meal Plan: breakfast, dinner
3 - Sunday (April 3) : Israel 2022: Wine & Dine
v
Activities:
Breakfast at hotel

Visit ANU Museum and its Foodish arm - In June 2021, after ten years of planning and construction, Anu the largest Jewish museum in the world opened its doors. Take a fascinating journey portraying the story of the Jewish People through the generations and up to the present time. The Museum represents all parts of the Jewish People and highlights the creative works and cultural riches of a variety of communities in different periods of history.
Foodish, the new culinary arm of ANU brings the story of Jewish food to the forefront.

Proceed to the Sharon area

Garage Wineries visit followed by home hospitality dinner - The Garage wineries, small wineries producing less than ten thousand bottles a year, are an up-and-coming trend sweeping the State of Israel.

Isrotel Royal Beach Tel Aviv

Overnight: Isrotel Royal Beach Tel Aviv

Meal Plan: breakfast, lunch, dinner
4 - Monday (April 4) : Bringing Israel Home Tour
v
5 - Tuesday (April 5) : Bringing Israel Home Tour
v
6 - Wednesday (April 6) : Bringing Israel Home Tour
v
7 - Thursday (April 7) : Bringing Israel Home Tour
v
Activities:
Breakfast at hotel

Bringing Israel Home Tour

Glamping Israel

Overnight: Glamping Israel
8 - Friday (April 8) : Bringing Israel Home Tour
v
9 - Saturday (April 9) : Bringing Israel Home Tour
v
10 - Sunday (April 10) : Bringing Israel Home Tour
v
Activities:
Breakfast at hotel

Bringing Israel Home Tour

Mamilla Hotel, Jerusalem

Overnight: Mamilla Hotel, Jerusalem
11 - Monday (April 11) : Bringing Israel Home Tour
v
Activities:
Breakfast at hotel

Bringing Israel Home Tour

Mamilla Hotel, Jerusalem

Overnight: Mamilla Hotel, Jerusalem
12 - Tuesday (April 12) : Old, New and Around
v
Activities:
Breakfast at hotel

Walking Tour of Jerusalem - Tour Jerusalem Old City's Jewish Quarter. Explore the Jewish Quarter including synagogues, alleyways and the small shops of the Byzantine Cardo. You will see artifacts uncovered during archaeological excavations that confirm two thousand years of Jewish presence in the Old City. Tour the Davidson Center, the Southern Wall Archaeological Gardens and Southern Kotel excavation.
OR
Tour Jerusalem Old City Muslim Quarter. Extending from the Damascus Gate to the Via Dolorosa, the Muslim Quarter is the largest of the Old City's quarters and home to Palestinian Arabs for centuries. Here you'll find the Temple Mount, revered by 3 faiths; a bustling Arab souk in the Byzantine-era roofed alleys; and numerous cathedrals, churches, and mosques.
OR
Visit Temple Mount, also known to Muslims as the Haram esh-Sharif and the Al Aqsa Compound is a hill located in the Old City of Jerusalem that for thousands of years has been venerated as a holy site in Judaism, Christianity, and Islam alike.

Street lunch on your own

Visit Abu Gosh - Abu Ghosh is an Israeli-Arab town in the Jerusalem hills that is well known for its hummus, music festival, beautiful churches, and history of friendly relations with Jews and Zionism.

Early dinner at Reshta Restaurant - Reshta chef restaurant in Ein Rafa village is set among green fields in front of the breathtaking view. Offering authentic Arabic food, Reshta restaurant is named after a traditional lentil and noodles dish, which is made by the restaurant's chef, Ranam Barhom, out of local produce, grown in the fields surrounding the restaurant.

Mamilla Hotel, Jerusalem

Overnight: Mamilla Hotel, Jerusalem

Meal Plan: breakfast, dinner
13 - Wednesday (April 13) : Sean Line Jerusalem
v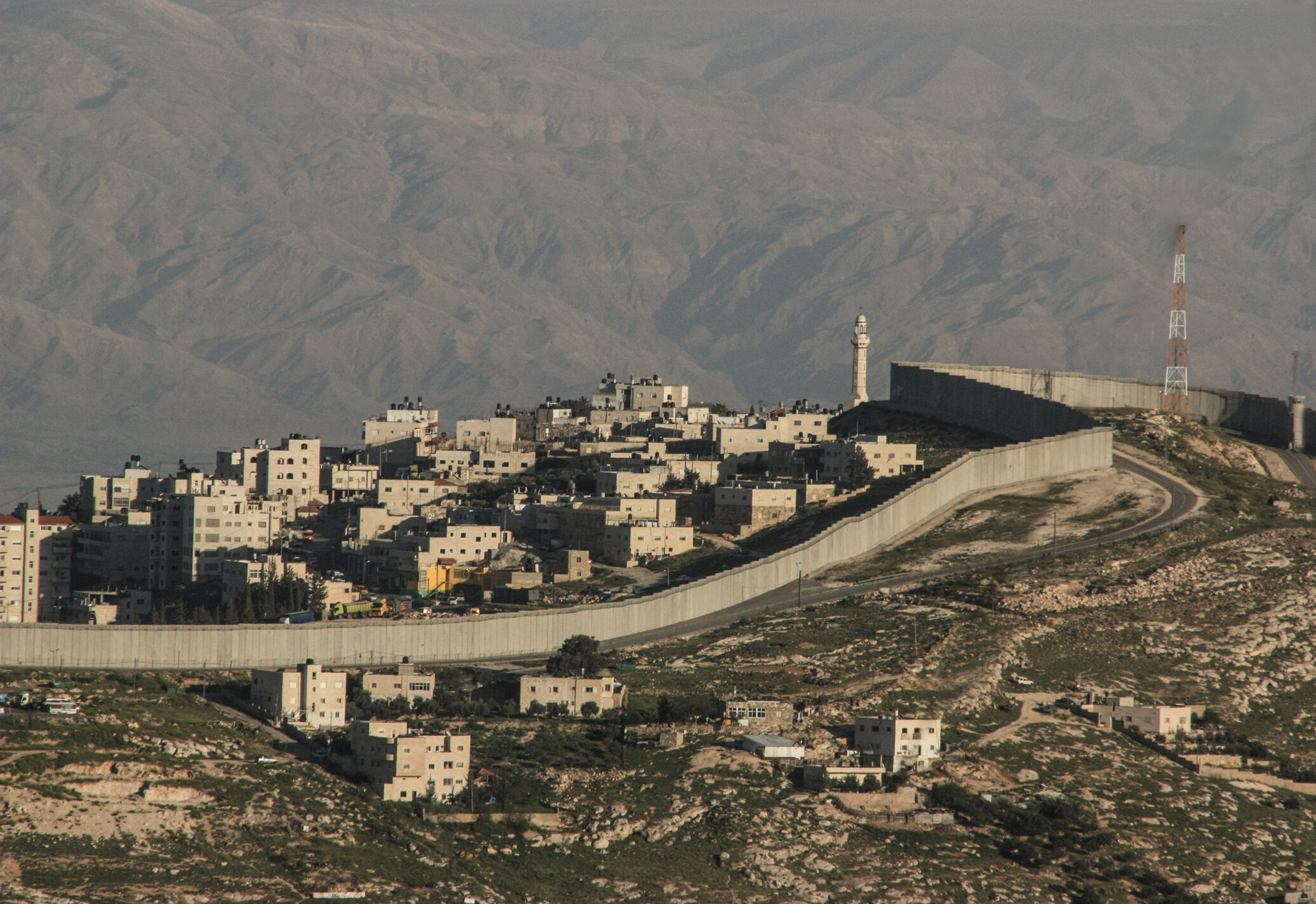 Activities:
Breakfast at hotel

Seam Line Jerusalem - Tour the greater Jerusalem area with Colonel (res) Danny Tirza, security expert and architect of the Security Barrier. View the city from many angles and engage in a conversation about the complexity of the barrier.

Lunch en route

Seam Line Jerusalem - Visit SINSILLA Center on the terraces of the Central Library of East Jerusalem. The center is dedicated to educate, inspire, create with, and empower, local communities by local and sustainable solutions. SINSILA" in Arabic means the natural stonewalls, also called "Salasal", which are medium-sized stones, close to each other, in the form of monolithic chains that do not exceed one meter high. The longitudinal shape is dependent on the slopes of the mountains and hills in order to prevent soil erosion, and ensures the continuation of agricultural activity without obstacles in mountains planted with trees, especially olives, almonds, grapes and seasonal plants

Rest and refresh before departure

Transfer to Ben Gurion Airport

VIP Departure

Overnight: VIP Departure

Meal Plan: breakfast, lunch
FAQ
What's the weather like in Israel?
v
It is always best to check the weather forecast beforehand as the weather during Spring and Fall seasons can be unexpectedly warm or cold.

Spring (late March – May): Daytime temperatures are generally very pleasant - around 65-70°F, though it can still be hot in some areas (such as the Dead Sea and Eilat). There is a slight chance of rain, but it doesn't happen often. It can be cooler in the evenings in the North and Jerusalem - approximately 45°F.

Summer (late May - late September): Temperatures are usually in the high 80s-90s. At this time of year, humidity will be highest in Tel Aviv and Tiberias. Other areas such as Jerusalem are drier and cooler, particularly at night. The desert, Masada and Eilat are extremely hot, but dry. It will almost never rain in the summer in Israel!
Fall (late September – November): Same as Spring, but the rain can begin towards the end of the season.
Winter (December - early March): Winter can be mild and sunny, or severe and overcast. There's often heavy rain and, in January and February, even snow at times! Temperatures will be in the 50s-60s most places, but in the 40s in Jerusalem and the Galilee hills, and cold at night. Pack layers and be prepared for anything!
If I have a question while in Israel, who do I call?
v
Via Sabra is on call for all of our clients touring in Israel. We take customer support very seriously and we are here to help. Please do not hesitate to contact us if you have any questions while you are in Israel.
A list of phone numbers will be sent to you approximately 3 weeks before your trip. And, while we take pride in getting to know our guests personally over the course of a trip, we would also love to meet you before you travel with us.
Click here to schedule
a Zoom / phone call with our staff - a short introduction will go a long way!
Is everything closed on Shabbat in Israel?
v
Shabbat (the Sabbath), the Jewish holy day of the week, starts at sunset on Friday and ends shortly after sundown on Saturday evening. All public offices, banks and many stores are closed on Shabbat. Museums, national parks and most art galleries are open. Non-kosher restaurants and entertainment spots are open. Buses and trains do not run on Shabbat in all cities, but taxis do. The airports are open as well. Naturally, cities differ from each other. While Tel Aviv is mostly open on Shabbat, Jerusalem will mostly be closed. Check out cool stuff to do on Shabbat when you have a free day (link).
Terms of Payment
Deposit is due immediately to secure the booking. All deposits are refundable for 48 hours from the time of booking. After that – the deposit is non refundable.
Balance for the trip is due no later than 45 days prior to first day of trip.
Please refer to our full Terms and Conditions here.
Cancellation Policy
Bookings can be cancelled within 48 hours, with a full refund.
Full refunds or changes will be possible for cancellations made as a result of force majeure circumstances, or due to Israel-imposed governmental or air flight restrictions related to COVID-19.

Cancellations up to 45 days prior to departure, the deposit per person will be charged (non-refundable).
Cancellations between 45 to 30 days prior to departure, entail a cancellation fee of 50% of the tour cost per person.
Cancellations between 29 to 8 days prior to departure, entail a cancellation fee of 75% of the tour cost per person.
For 7 to 0 days prior to departure entail a cancellation fee of 100% of the cost of the trip
Should members of a group booking cancel their participation, their deposits cannot be applied to the balance payment of other group members.
All cancellation requests must be made in writing.
What's Included

A private, licensed, English-speaking tour guide (as indicated)
v

Meals as listed in the itinerary
v

Fees for sites and activities listed
v

Travel Insurance (recommended)
v

COVID-19 health insurance coverage (required)
v

PCR testing (when required)
v

COVID-19 testing (when required)
v

Airfare
v
Testimonials
"This was our third trip with via sabra and it was outstanding. We went with Aliza Green who is a cook and cookbook writer who provided us with lots of insights. Orit Levi our tour guide (third time) was excellent. Via Sabra makes every trip different so we did not feel as if we were repeating anything. We took our seven year old grandson who was well received and loved the trip. Via Sabra is caring and strives to accommodate any requests. We cannot recommend Via Sabra enough and we are looking forward to our next trip."
Know before you go
Learn all about the things that you want